Quads is driven by our passion to embark on an expedition to find an answer in investigating minerals and latest technology to meet the market's floorings conventional worries, yet at the same time remain competitive. Quads handpicked beautiful and practical flooring options to meet the diverse needs of all fields of consumers ranging from Versatile (PVC UniClick) Flooring, Vinyl (Adhesive Bond) Flooring, Carpet, Grass and Homogeneous/Porcelain tiles.
Check out our FEATURED PRODUCT – PVC (UNI-CLICK) , CARPET GRASS
VERSATILE (PVC UNI-CLICK) FLOORING. AFFORDABLE LUXURY THAT LASTS.
Quads Versatile Tile revolutionize the limitations of traditional wooden and laminate floorings. Combining the latest PVC technology, this new PVC floor tile overcomes conventional worries of water resistance, durability and interestingly re-usability. New installation methodology with tongue and groove click system without any adhesive bonding required.
Customers can now enjoy Quads new product of high quality flooring option with natural and realistic looks without conventional worries of water resistance, termites, gum odour, re-usablility and durability at affordable prices.
Quads Versatile Floor Tile offers a wide selection of wood and stone designs. Call or PM us 90014455 / email supplies@quads.sg for your flooring needs.
Click to watch Quads Versatile (PVC Uni-Click) Tiles installation video.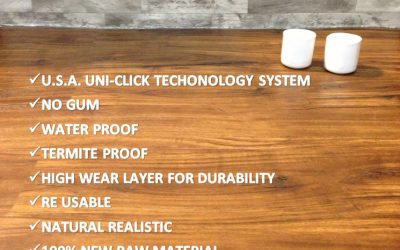 USA UNI-CLICK Technology System. No Gum Needed. Waterproof. Termite-proof. 0.7mm Wear Layer For High Durability. Re-Usability. Natural Realistic Designs. 100% Virgin Raw Material.
GRASS FLOORING. MAGICAL INSPIRATIONS FOR STORIES.
Carpets, a widespread popularity of textile floor covering has inspired stories of magic since history. Commonly made from wool or man-made fibre such as polypropylene, nylon or polyester are widely used in commercial offices. Quads has wide carpet designs and materials for our customers to choose from.
Call or PM us 90014455 / email supplies@quads.sg for your flooring needs.
Quads Artificial Grass "Series 1 QS-LQ40-20136" in a HDB Apartment Room to create a field atmosphere for their entertainment room while watching/playing soccer. Click more for photos of this project.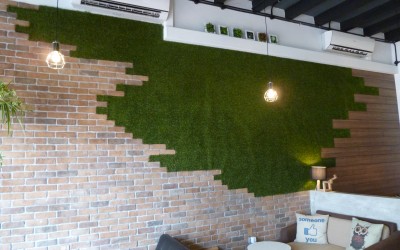 Quads Grass in a Joo Chiat Place café. Please click for more photos of this project.