VERSATILE (PVC UNI-CLICK) FLOORING. AFFORDABLE LUXURY THAT LASTS.
Quads Versatile Tile revolutionize the limitations of traditional wooden and laminate floorings. Combining the latest PVC technology, this new PVC floor tile overcomes conventional worries of water resistance, durability and interestingly re-usability. New installation methodology with tongue and groove click system without any adhesive bonding required.
Customers can now enjoy Quads new product of high quality flooring option with natural and realistic looks without conventional worries of water resistance, termites, gum odour, re-usablility and durability at affordable prices.
Quads Versatile Floor Tile offers a wide selection of wood and stone designs. Call or PM us 90014455 / email supplies@quads.sg for your flooring needs.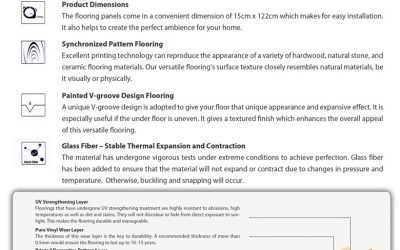 Understand Quads VF Tiles better. The Wear Layer of the tile determines the durability or life span of the tile, not the thickness of the tile. Quads recommend above 0.5mm wear layer will ensure the flooring to last 10-15 years.
---
VF 1 REVOLUTIONARY
Size 1220 x 184 mm , Thickness 5.0, Wear Layer 0.7 mm
VF 2 REAL WOOD
Size 1220 x 179 mm , Thickness 5.0 mm , Wear Layer 0.7mm
VF 3 NATURAL WOOD   (KOREAN)
Size 1210 x 169mm , Thickness 5.0 , Wear Layer 0.5 mm
Keen on Quads newest techonology Versatile Tiles? Give us an enquiry!